FedEx Freight Service Centre,  Rocky View County,  Alberta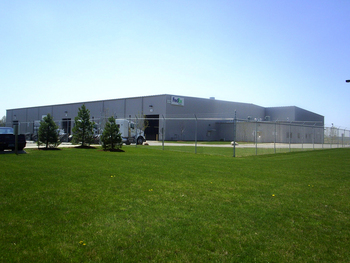 PROJECT OWNER:
KW Ventures Calgary, ULC
COMPLETION DATE:
Fall 2012
IRRIGATED AREA:
0.76 ha (1.88 acres)
IRRIGATION PRODUCTS:
Hunter MP Rotators
Rain Bird Turf Rotor 5004
Hunter Dripline PLD Series
HDPE Mainline Network
Rain Bird ESP-LXD-LXMMPED 50 Station Two-Wire Controller with Turf Sensor Decoder
Irrometer Water Switch WS1 Soil Moisture Sensor
Rain Bird Wireless Rain/Freeze
Submersible Irrigation Pump 5 Hp c/w Orival Filtration (80gpm, 80psi)
Two-wire Path System c/w Decoders
PROJECT OVERVIEW
FedEx Freight Services is located in Rocky View County and falls within the Zahmol Stage Master Drainage Plan (MDP). The MDP requires this site to take 4,400 m3 annually from the Central Stormwater Pond (CSP). Surface drainage directs rainfall to three small detention ponds which control outflow discharge rates, provide water quality enhancement, and act as storage for re-circulated water.
LIS was retained by Stormwater Solutions Inc. to develop the irrigation design package and irrigation water management requirements.

PROJECT CHALLENGES
In accordance with the MDP, and to maintain stormwater pond levels so the ponds can receive the property's CSP allocation, the irrigation system is required to perform double duty. Primarily to irrigate the landscape. Secondarily to assist in maintaining pond capacity. The irrigation system needed to irrigate the landscape and automatically manage any CSP overflow to on-site ponds.

SOLUTIONS
To maintain pond levels and provide capacity, LIS developed an innovative method using landscape dripline configured into independent zones to place excess stormwater onto hard surfaces designed to enhance evaporation.
LIS researched different automatic water management options for the project with industry irrigation control providers. The selected Rain Bird Two-Wire Controller is capable of managing multiple programs (Irrigation vs. Enhanced Evaporation) with multiple control and sensor inputs (Pond level sensors, Pump Starters, Central Automatic Valve on the Central Storm Pond supply line, Rain/Freeze sensor, and soil moisture sensor).
LIS worked closely with Stormwater Solutions Inc. to design and size the wet well required for the submersible irrigation pump. LIS engineered the mechanical plan for the lake screen, pump station, filtration, flow sensing, and the point of connection with all required control valves, switches, sensors, and control panels.