Frontier Business Park Irrigation,  Calgary,  Alberta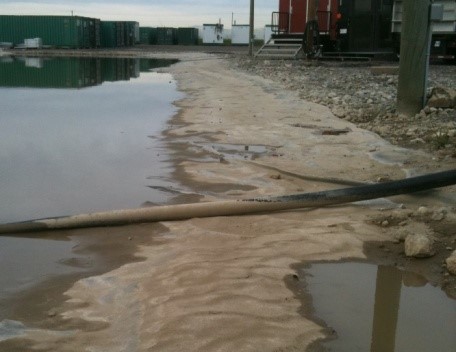 PROJECT OWNER:
Harlyn Properties Ltd.
COMPLETION DATE:
Fall 2010
IRRIGATED AREA:
4820 m2 (1.20 acres)
IRRIGATION PRODUCTS:
Hunter MP Rotator Sprinklers (Turf)
Netafim Techline CV6-18 (Shrubs and groundcover)
Rain Bird ESP Modular 13-Station Controller c/w wireless rain sensor
Rain Bird XCZ Drip Control Zone Kit
Irritrol 200 Series Valves
HDPE PE3408 DR11 Mainline Piping
PROJECT OVERVIEW
The property serves as a storage and maintenance area for leasing client's operations. Irrigation for the site is intended to provide supplemental water for the new landscape plantings and serve as a stormwater management tool. All stormwater collected on site is directed to and stored in a lined pond. LIS was hired by Stormwater Solutions Inc. to satisfy the irrigation design requirements.

PROJECT CHALLENGES
Natural site conditions, high water table, clay soils, and a flat site, prohibit soil infiltration as a stormwater management method. In addition, municipal stormwater management restrictions dictated the use of a new and promising stormwater management method called 'Enhanced Evaporation'. 'Enhanced evaporation' involves delivery of the excess stormwater onto adjacent site surfaces such as rooftops and hard surfaces (i.e. parking tarmac) where it is allowed to evaporate.

SOLUTIONS
Essentially, LIS designed two specific irrigation systems for the site. The first, a conventional irrigation system utilizing highly efficient sprinklers and irrigation runtimes to deliver only the water required by the landscape. The landscape water requirements are monitored by soil moisture sensors which provide soil moisture condition feedback to the irrigation controller.
The second irrigation system intended for 'enhanced evaporation' only, delivers stormwater via landscape drip lines to the perimeter of the extensive recycled asphalt tarmac where it is allowed to evaporate. 'Enhanced Evaporation' operation runtimes are scheduled into the irrigation controller and monitored by pond level sensors to ensure pond levels are maintained within specific tolerances.