80  Hawkhill Dr. NW – Irrigation Upgrade,  Calgary,  Alberta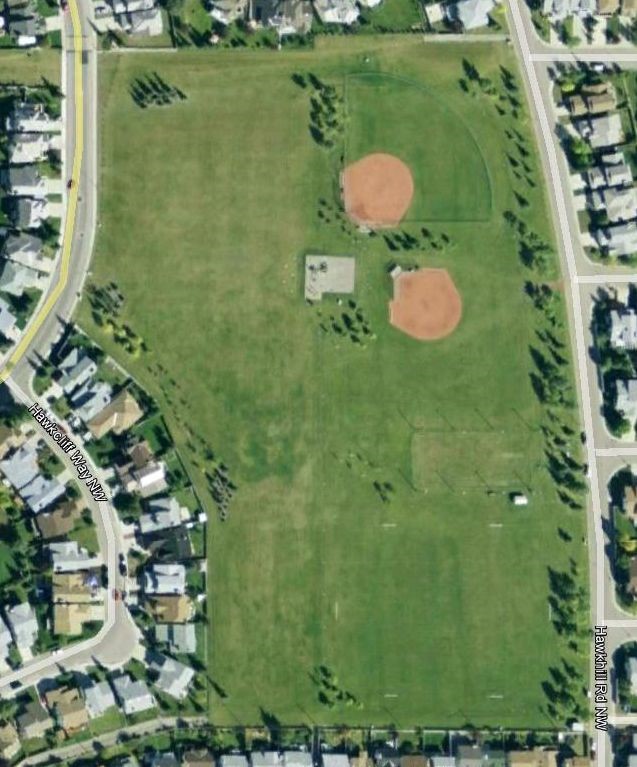 PROJECT OWNER:
City of Calgary – Parks
COMPLETION DATE:
2008
ESTIMATED CONSTRUCTION COST:
$305,000
IRRIGATED AREA:
3.0 ha (7.4 acres)
IRRIGATION PRODUCTS:
Motorola 48-Station IRRINET XM Controller
Hunter I-25 Sprinklers
HDPE Mainline Piping
PROJECT OVERVIEW
Hawkwood Park and community is located in the Northwest quadrant of the City of Calgary, Alberta and is used intensively by local minor league soccer. The Hawkwood project was part of a tender package issued in 2007 by the City of Calgary Parks – Capital Irrigation Construction Projects. LIS was successful on two projects both of which were completed on budget.

PROJECT CHALLENGES
Generally speaking, the site was relatively straightforward with the exception of high pressure gas line right of way along the north edge of the site. This gas line required specific setbacks of the irrigation components.

SOLUTIONS
LIS and city of Calgary Parks staff analyzed the existing point of connection and determined it was fit. An initial design analysis using SpacePro was conducted for the site and the most efficient and economic sprinklers were selected. Irrigation Water Requirement was established based on evapotranspiration and landscape specific coefficients. The design flow and mainline size was determined. The proposed system was designed using high efficiency irrigation product and in accordance with The City of Calgary Parks, Development Guidelines and Standard Specifications, Landscape Construction, 2007 and the Irrigation Association's Turf & Landscape Irrigation Best Management Practices. The project construction supervision was conducted in collaboration with City of Calgary staff. An as-built plan was also prepared.
LIS is proud to have delivered for the Hawkwood Park site (one of only two irrigation projects within the City of Calgary) a distribution uniformity (DU) analysis completed for the entire site based on as-built information collected post-construction. Results of the analysis indicated the overall site DU with an operating pressure of 60psi was 77.3 while a representative sample from the middle of the sports fields indicated a DU of 82.0.