Peter Lougheed Centre – East Wing Addition Irrigation,  Calgary,  Alberta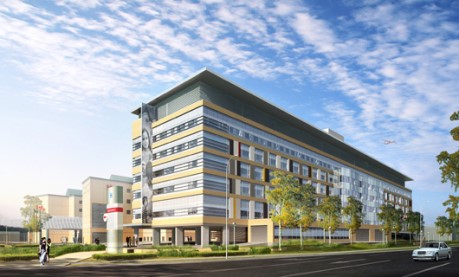 PROJECT OWNER:
Alberta Health Services
COMPLETION DATE:
Fall 2010
IRRIGATED AREA:
10,600 m2 (2.62 acres)
IRRIGATION PRODUCTS:
Hunter MP Rotator Sprinklers (Turf)
Netafim Techline CV6-18 (Shrubs and groundcover)
Toro Sentinel Decoder controllers c/w Rain Bird ET Manager
Rain Bird XCZ Drip Control Zone Kit
Irritrol 200 Series Valves
HDPE PE3408 DR11 Mainline Piping
PROJECT OVERVIEW
The Peter Lougheed Center (PLC) is located in the North-East of Calgary and provides medical and surgical services not only to Calgary, but also Southern Alberta. This major redevelopment of the Peter Lougheed Centre hospital involves both new construction and renovation. LIS was sub-contracted by HOK in collaboration with Marshall Tittemore Architects (architect), to satisfy the irrigation design requirements.

PROJECT CHALLENGES
Initial scope included detailed irrigation design for the new east wing addition and was quickly increased to include the renovation of the western portion of the site which required a slave controller along with two-wire decoder control wiring. LIS collaborated with the design team to coordinate irrigation control with the internal 375 cubic metre cistern and the landscape irrigation water demands to meet LEED Silver certification goals for landscape water efficiency and innovation.

SOLUTIONS
LIS developed irrigation water management options for AHS staff who were then able to make educated decisions regarding how their irrigation system would meet landscape water requirements. Services provided by LIS included detailed irrigation design, detailed irrigation water management solutions, bid document preparation, construction review, contractor progress claims, and as-built record drawings.