CBE Safran Education Centre Irrigation, Calgary, Alberta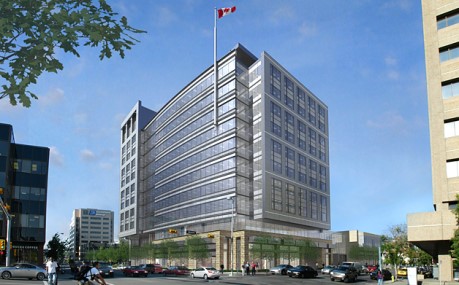 PROJECT OWNER:
Alberta Health Services
COMPLETION DATE:
Fall 2010
TOTAL CONSTRUCTION VALUE:
T.B.D.
IRRIGATED AREA:
2130 m2 (0.53 acres)
IRRIGATION PRODUCTS:
Hunter MP Rotator Sprinklers (Turf)
Netafim Techline CV4-18 (Shrubs and groundcover)
Rain Bird RWS Mini Root Watering (Individual Trees in hard surface tree wells)
Hunter ACC-12-Station Controller c/w flow sensor
Rain Bird ET Manager™
Rain Bird XCZ Drip Control Zone Kit
Irritrol 200 Series Valves
PROJECT OVERVIEW
The property includes the existing historic sandstone Dr. Carl Safran School building and a proposed linked office structure. The irrigation for the site will cover both the existing landscaping to remain and the proposed landscaping. Two irrigation water services were required as per Municipal direction. LIS was hired by TLI Group to satisfy their design-build requirements.

PROJECT CHALLENGES
Achieving LEED Silver Certification under the internationally respected Leadership in Energy and Environmental DesignTM (LEED) program requires a reduction in potable water use for irrigation of 50%.

SOLUTIONS
Very efficient water delivery methods were utilized as well as real-time weather-based irrigation runtime control. The site's ET Managers™ ensures each micro-climate receives the right amount of water when and where it's required but also promotes healthy plants and reduces pest problems. Furthermore, the ET Manager™ logs all water use, enabling continual soil moisture analysis. Alarms on the controller notify the user of any concerns, such as pipeline breaks, resulting in time and money savings. Water-efficient components, such as low-volume dripline, help the site reap the additional water savings necessary to receive LEED silver certification.