Rockyview General Hospital – Irrigation, Calgary, Alberta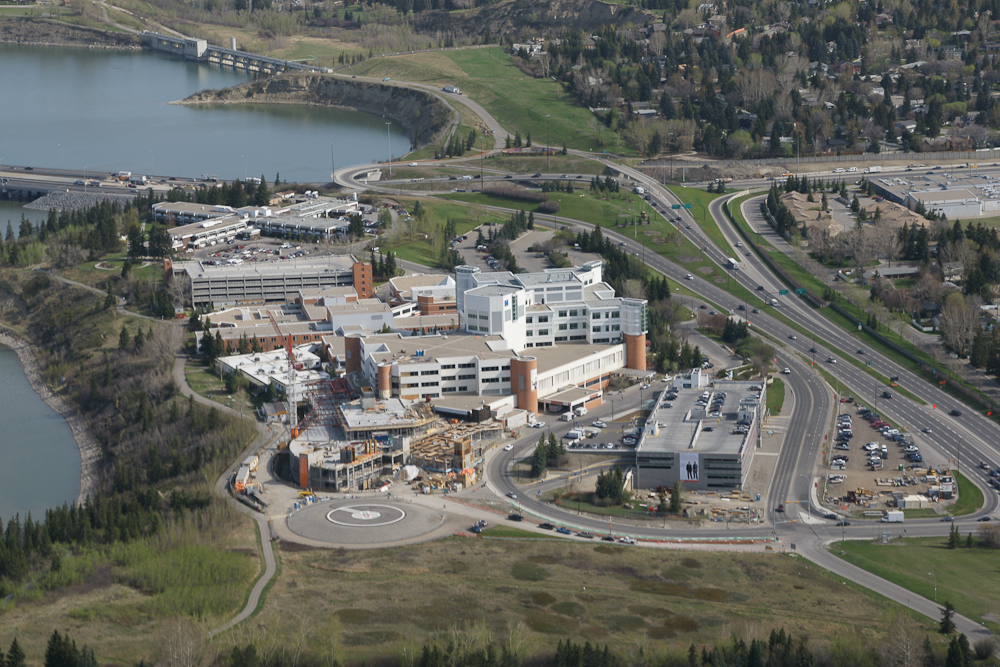 PROJECT OWNER:
Alberta Health Services
COMPLETION DATE:
Fall 2010
IRRIGATED AREA:
97,000 m2 (23 acres)
IRRIGATION PRODUCTS:
Hunter MP Rotator Sprinklers (Turf)
Hunter I-20 and I-25 Rotors
Toro Sentinel Decoder controllers
Toro Sentinel Water Management System Central Control c/w Weather Reach
Pumptronics Package VFD Pump Module
HDPE PE3408 DR11 Mainline Piping
PROJECT OVERVIEW
The Rockyview General Hospital (RGH) is located in the South-West of Calgary and provides a full-range of adult focused inpatient and outpatient medical and surgical services. This major redevelopment of the Rockyview General Hospital started with the construction of the South Addition and evolved to the full site renovation. LIS was sub-contracted by Landplan in collaboration with Stantec (architect), to satisfy the irrigation design requirements.
PROJECT CHALLENGES
The existing irrigation system had reached the end of its effective lifecycle and operation and maintenance costs were becoming prohibitive. In addition to the typical irrigation system requirements LIS was required to specify new irrigation controls which needed to meet strict internal communication security protocols for Ethernet and wireless connectivity. LIS reviewed no fewer than three possible control systems and presented the two most feasible options to the Client.
SOLUTIONS
Together all parties agreed on a Toro Sentinel decoder system. A pressure transducer (replaced a pump start relay) to control the pump start events and a VFD module were installed at the existing turbine pump to reduce mounting electrical costs and wear and tear on the pumping system. Irrigation water was pumped directly from Glenmore Reservoir. LIS developed detailed irrigation runtime schedules for AHS staff to utilize to meet landscape water requirements. Services provided by LIS included detailed irrigation design, detailed irrigation water management solutions, bid document preparation and tender support, construction review, contractor progress claims, and as-built record drawings.