Optimist Athletic Park,  Calgary,  Alberta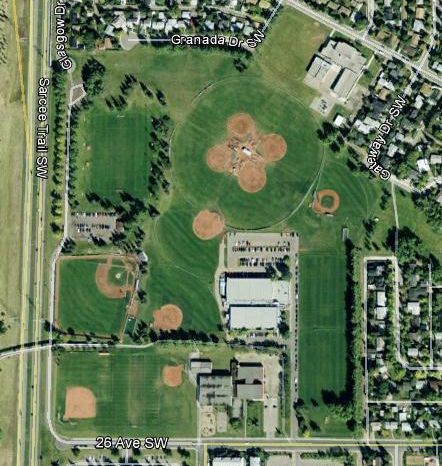 PROJECT OWNER:
City of Calgary – Recreation
COMPLETION DATE:
Fall 2013
ESTIMATED CONSTRUCTION COST:
TOTAL CONSTRUCTION VALUE:
CAD $925,000.00
IRRIGATED AREA:
9.2 ha (22 acres)
IRRIGATION PRODUCTS:
Underhill Mirage Sprinklers (Soccer Fields)
Rain Bird 751E Valve-in-Head Sprinklers (Baseball Fields)
HDPE Main Line Network
Baseline BL-6000-5RB-E c/w Bridge Unit, Computer Terminal, 4 Remote Base Units, and Ethernet Modem
Baseline BL-5315B Soil Moisture Sensors
Two-wire Path System c/w Decoders
PROJECT OVERVIEW
The City of Calgary Foothills Athletic Park facility hosted the 2011 and 2012 Canadian National Track and the 2012 Olympic Track and Field National Team Trials. The previous irrigation system was a manual quick coupling system that was labor intensive and rarely efficient. Engaged by Reed Atwood Builders Inc., LIS developed a contemporary, highly efficient, lower maintenance, responsive irrigation system to maximize turf health, athletic performance and safety.

PROJECT CHALLENGES
Approaching the end of its effective life cycle, the existing irrigation mainline required replacement. The design/build project had a very tight timeline. While administered by The City of Calgary Recreation, LIS was responsible for collaboration between the General Contractor, the Irrigation Contractor, and The City of Calgary Recreation Project Manager and operations staff.

SOLUTIONS
New mainline was installed from the Parks water service to the booster pump house. All piping to and from the booster pump was replaced. The mainline network was extended to the new infield sports turf irrigation system, as well as the adjacent Burns Stadium loop. In conjunction with the irrigation contractor, the project successfully met all timeline and budget targets. The new irrigation system effectively reduces operation, maintenance and potable water costs.