Heritage Park Expansion Irrigation,  Calgary,  Alberta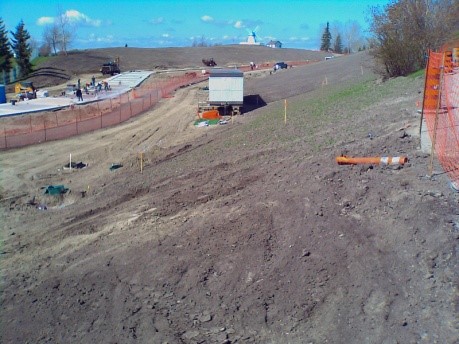 PROJECT OWNER:
Heritage Park Historical Village
COMPLETION DATE:
Fall 2010
ESTIMATED CONSTRUCTION COST:
$4,000,000 (Landscape & Irrigation)
IRRIGATED AREA:
8.3 ha (20.5 acres)
IRRIGATION PRODUCTS:
Hunter MP Rotator Sprinklers (Turf)
Netafim Techline CV6-18 (Shrubs and groundcover)
Hunter ACC-99D Decoder controller c/w Rain Sensor
Rain Bird XCZ Drip Control Zone Kit
Irritrol 200 Series Valves
HDPE PE3408 DR11 Mainline Piping
PROJECT OVERVIEW
Heritage Park is located in the South-West of Calgary and is Canada's largest living historical village. This major redevelopment involved both new construction and renovation. LIS was sub-contracted by Landplan Associates (landscape architect) to review existing irrigation inventory and satisfy the irrigation design requirements for the three-phases of construction.

PROJECT CHALLENGES
The project required extensive coordination with the different stakeholders and detailed review of the site-specific design considerations such as potential for salvage and reuse of existing irrigation hardware as well as vandalism risk.
Significant planning considerations were required to effectively coordinate the irrigation construction plan over the three-year construction window including but not limited to determining irrigation flow requirements for the full site irrigated area, irrigation controls, and pressure requirement calculations.

SOLUTIONS
LIS reviewed long term site plans and determined best method to control the irrigation system. Prepared Irrigation Design Package for each of three phases (20 drawings total) complete with detailed irrigation design, detailed irrigation water management solutions, bid document preparation, construction review, contractor progress claims, and as-built record drawings.