Hounsfield Heights Sportsfield Upgrade,  Calgary,  Alberta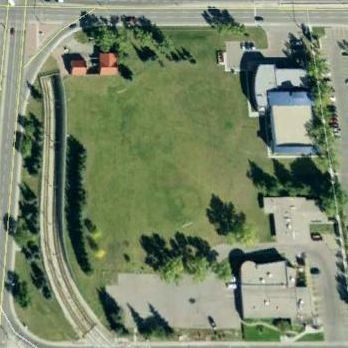 PROJECT OWNER:
City of Calgary – Parks
COMPLETION DATE:
2013
ESTIMATED CONSTRUCTION COST:
CAD $364,000.00
IRRIGATED AREA:
0.81 ha (2 acres)
IRRIGATION PRODUCTS:
Medium Turf Rotors – Rain Bird Falcons
Bubblers – Hunter Root Watering Systems
HDPE Main Line Network
Rain/Freeze Sensor Combo – Hunter RFC
Motorola IRRInet M 12-Station c/w Expansion Module
150mm Parks Water Service with 100mm Point of Connection
Big Roll Sod c/w Imported Top Soil
Mulch for Tree Wells
PROJECT OVERVIEW
Hounsfield Heights Sportsfield is located in the community of Briar Hill in NW Calgary. The Park is used extensively by the Community Association for soccer and other outdoor sports activities. The Park upgrade included rotodairon of existing turf, earthworks, grading, demolition, relocation of trees, irrigation system replacement, and landscape rehabilitation. The design package and bidding process were completed in the summer of 2012 with construction start up in spring of 2013. Construction is scheduled to end in June 2013. LIS was hired by The City of Calgary to satisfy the design, bidding, and project management requirements of the sportsfield upgrade.

PROJECT CHALLENGES
The park is located between the Louise Riley Public Library, the Fire Hall, the Community Association, the LRT Track, and the LRT Traffic Control. Site access presented a significant construction challenge. The Parks water service was in a dangerous, high traffic area and was to be abandoned, and a new Parks water service was coordinated. The open green space suffered from poor drainage and required detailed grading and drainage plans.

SOLUTIONS
The project required extensive coordination among the different stakeholders. A tour of the adjacent fire hall facility to coordinate irrigation control communications with the City central computer as well as project meetings with the City of Calgary Project Manager, Water Management Lead, and Field Inspector. LIS provided design and coordination services for Central Control communications to the on-site Master Motorola irrigation controller and Piccolo Interface Unit (PIU) to control the irrigation along the corridor of the 16th Avenue Landscape and Irrigation project.
LIS prepared detailed grading plans to address the site's poor drainage issues. Several trees will be relocated on site to maximize the sportsfield play area. Irrigation was provided only to the sportsfield playing surface in accordance with the City of Calgary's Strategic Water management Plan.