New Brighton Athletic Park,  Calgary,  Alberta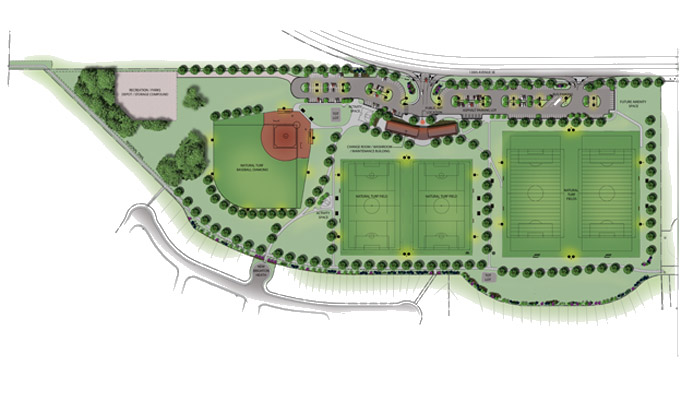 PROJECT OWNER:
Alberta Infrastructure
COMPLETION DATE:
Fall 2015
TOTAL CONSTRUCTION COST:
CAD $ 1,217,000.00
IRRIGATED AREA:
10.80 ha
IRRIGATION PRODUCTS:
Pumptronics Booster Pump Station
250 mm PWS with 200 mm DCVA assembly
Underhill Mirage Sprinklers (Football, Rugby, Lacrosse, and Soccer Fields)
Hunter I 25 Sprinklers (Baseball Field)
Rain Bird GB and 300-BPE Series Valves
HDPE Mainline Network
Baseline BL-3200 c/w Ethernet Modem
Baseline BL-5315B Soil Moisture Sensors
Two-wire Path System c/w Decoders
PROJECT OVERVIEW
New Brighton Regional Athletic Park is a new City of Calgary Recreation outdoor sport facility located in SE Calgary. The new outdoor park responds to a need for sport infrastructure in Calgary's South. The Park offers four rectangular multi sport natural turf fields, two of which are large enough for football and rugby while the other two fields are sized to accommodate soccer, field hockey, lacrosse and ultimate Frisbee. The park also features a baseball natural turf diamond, change rooms, regional trails, and internal pathways. The irrigation system was master planned and designed in 2014 and construction was completed in Fall 2015. LIS was hired by Lombard North Group on behalf of The City of Calgary Recreation as part of the Consulting team to satisfy the design, bidding, and project management requirements.

PROJECT CHALLENGES
The size of the irrigated area required the installation of a non-standard 250mm Parks Water Service with a 200mm Double Check Valve Assembly and a 20 psi boost to the static water pressure. The Client wanted to use a block system rather than valve-in-head, therefore a total of 125 electric valves were required out of which 27 are 75mm valves.

SOLUTIONS
LIS designed the point of connection complete with a suitable booster pump to meet the flow and operating pressure requirements of the system. Nine soil moisture sensors were strategically located in the fields to make real-time adjustments to the irrigation programs based on actual field moisture conditions. The irrigation design introduced the use of sport field specialized water delivery methods (sprinklers with turf cups) for efficient water applications and reduced the number of sprinklers in the playing area. Three two-wire paths electrically operate a total of 125 remote control valves. The elimination of the existing high maintenance conventional wiring system drastically reduced the extensive wiring requirement in the field and at the controller. The selected Baseline web-based irrigation central control provides the operators with wireless access to the irrigation programs from any smart tablet/phone or computer with a secure user ID and password and provides remote control operation of the irrigation system.